The prior article in this series can be found here, while clicking here will take you to Part 1 and the start.
Before we get going, its only fair to note that while this article was actually written two weeks before publication, the 'revelations' of the last couple of days (see here) caused us to have a look back over it. No edits were necessary. It really is just a re-hashed sentiment bomb devoid of any actual value or importance in the narrative of what happened in 2011/12.
Delayed Impact
When Rangers lost to Malmo in 2011 on aggregate they failed to qualify for the Champions League. When they lost to Maribor in a qualifier, Europa League revenues disappeared as well. The gamble was lost and the music had to be faced.  It had been just 3 years since Rangers made the final of that competition.
It is not totally clear why Craig Whyte didn't put Rangers into Administration at that point but it may have been the slight possibility of righting short term cash flows through player trading while a league win might allow another roll of the dice – especially if the Big Tax Case fell his way. In other words if he could keep plates spinning long enough without actually putting more money in and at risk – the situation might change.  In not paying the Wee Tax Case, nor the PAYE and NIC that was building up and wheeling and dealing on transfers things hadn't totally came down around him as yet. When the Sheriff Officers came in August with a Summary Warrant for the overdue tax it was 2 weeks before the second Maribor defeat of 25 August 2011. In any case unless things got to a point of 'trading while insolvent' Whyte himself didn't stand to lose from it. He'd effectively purchased the business (by buying its debt) via a loan secured on Rangers own future season ticket sales – though this was still to come out in the public domain. That £1 that rolled across the Board table was literally and figuratively the only thing to come out his own pocket.
Always in a hurry, I never stop to worry
Don't see the time flashin' by
Honey, got no money
I'm all sixes and sevens and nines

Tumbling Dice, the Rolling Stones
The team made a decent fist of a league challenge for a while and there were a few new signings Carlos Bocanegra, Lee Wallace, Juan Ortiz, Sone Aluko and Doran Goian being the most memorable. Of these only Wallace cost more than £1m, while the sales of Madjid Bougherra and Nikola Jelavic dwarfed this, bringing in a reported £7.2m between them. All in all 16 players left in the summer window with 20 more leaving in the winter window and only 9 coming in (7 in the summer). There were frantic efforts to remove players from the wage bill. Arguably if enough had been raised from the churn to cover the tax debts, there was an outside chance at another UEFA license and a second roll. It wasn't to be.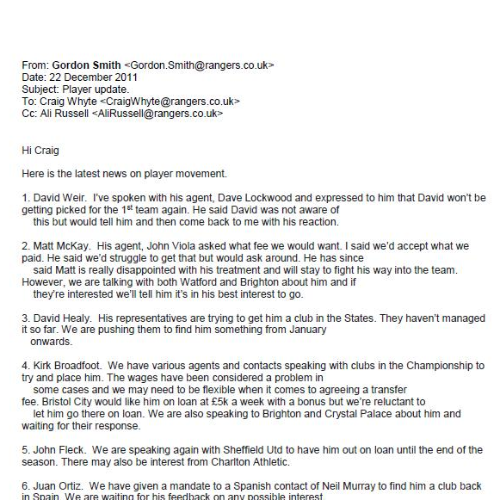 By the time the January transfer window had closed  the First Tier Tax Tribunal had already been sitting. In the final analysis it wasn't looking good for another tilt at Europe and redemption. A draw with Aberdeen had set them behind in the title race which had been neck and neck and the squad had been weakened.
Rangers Ken Olverman had been in touch with Keith Sharp at the SFA about a potential UEFA license for 2012/13. He cheekily declares the Wee Tax Case liability to have been appealed. What a scamp! It was only the penalties and interest able to be appealed at that point, and the late appeal in October 2011 had been dismissed and called 'vexatious'. It notes that they expect to hear about the FTT outcome in March.
In terms of outstanding transfer payables, the Jelavic solidarity payment and Bedoya transfer fee was outstanding. In relation to outstanding VAT, Social Security & PAYE – well none of it had been paid since the previous May.  The response from Keith Sharp made it pretty clear that with the disclosure of tax overdue at 31 December 2011 having been admitted, the SFA wasn't going to play ball on the tax stuff this time unlike  the 2011 application. It would need to be real written agreements and clarity on appeals.  This rigidity on the well publicised tax issues had been conspicuous by its absence in the prior year cycle, though of course scrutiny of the SFA's role had also increased.
So, going into February 2012 the game's a bogey.  Two weeks later Rangers enter Administration after Craig Whyte pulls the trigger on it before HMRC can. Those negotiations on a payment plan went south real fast! Whyte did manage to get his choice of Administrators put in place though by jumping before being pushed – Craig Whyte got in touch with old pal David Grier (of MCR Capital who had been acquired by Duff & Phelps) to arrange for Paul Clark and David Whitehouse of Duff & Phelps to become Administrators.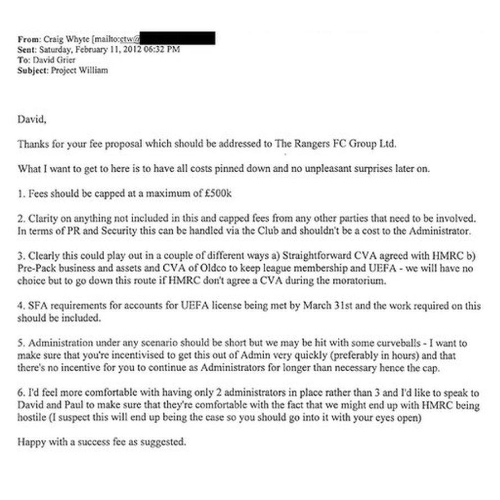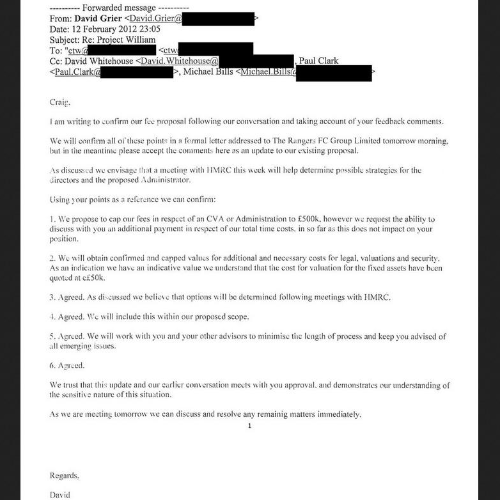 That'd be the same David Grier that who – according to Mark Daly's "The Men Who Sold the Jerseys" – was aware of the Ticketus funding of Craig Whyte's takeover ahead of it going through. The same chap who was delaying and negotiating the Wee Tax Case liability for Craig Whyte's Rangers without ever settling it during the last UEFA licence process.  The chap who had acknowledged RFC received the 20th May HMRC letter which should have been passed to the SFA immediately under UEFA FFP Articles within the monitoring period (before the monitoring could begin on receipt of list of clubs granted a licence sent to UEFA on 26 May). A significant  letter that had it been disclosed as required would have raised doubts about the status of the payable at 31 March 2011 described as a "potential liability"  where "discussions are continuing with HMRC  to establish a resolution to the assessments raised" and on which basis a licence was granted in its absence. Its disclosure promptly would have at very least put the licence at risk.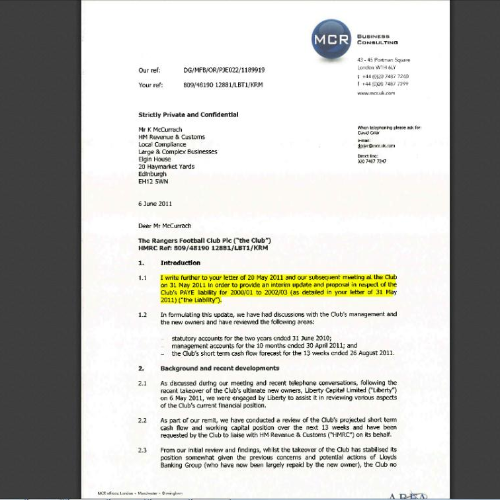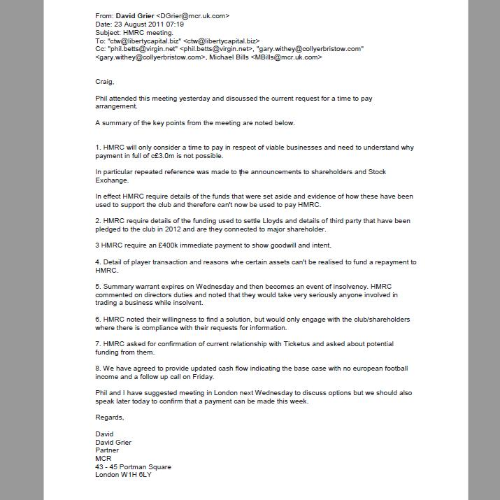 As it happens Paul Clark and David Whitehouse weren't strangers to Craig Whyte's Rangers either, with the future Administrators being involved in discussions about Rangers affairs at least as far back as November 2011.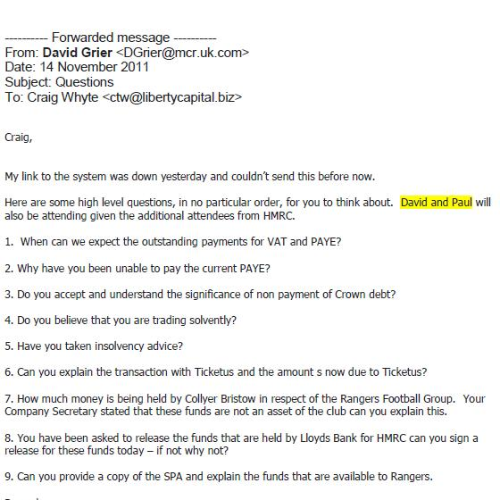 It would be naive to believe that the ducks weren't in a row well ahead of Administration being confirmed, but Rangers still thought there was a chance the SFA might allow them another UEFA license until very late on in the unfolding disaster. They had after all been accomodating before. Whyte was out of time and the gamble hadn't come off. He'd have known he was about to be thrown to the wolves. It wasn't really anyone still at Rangers fault, the damage had already been done before the season started.
At this point things start moving quickly towards the disaster that Whyte's short time at the helm had helped to delay for that last tumble of the dice.
Scapegoats and scripts
Phase 1:
Three days later the SFA announce an investigation to be led by Lord Nimmo Smith ("LNS") into whether Rangers and Craig Whyte had brought the game into disrepute. Despite non-payment of VAT/PAYE tax being part of the supporting evidence for charges against Craig Whyte; when Stewart Regan meets LNS to define the terms of reference for the Judicial Panel, Whyte's failure to pay the Wee Tax Case liability (funds for which had been held in escrow by Collyer Bristow since the August 2011 arrestment by HMRC) does not form part of the charges. He had given a written public undertaking to do in June '11 as part of the agreement to purchase Rangers.  This particular non-payment of PAYE and NIC had been crucial to the previous years UEFA licence issues and had been the subject of complaints since. I mean it's possible that it is an oversight by the SFA that some but not all PAYE liabilities were included, but Regan certainly knew about the liabilities having been wishing to put out a public statement about them before being dissuaded at the Hotel du Vin. It is not very likely though. The same day that Regan meets LNS, Duff and Phelps drop the 'vexatious' out-of-time appeal to the penalties on the Wee Tax Case too. It had been a failed gambit at pretending for UEFA purposes that taxes were not overdue.
Phase 2:
Despite knowing about the EBT Big Tax Case since at the very latest 2009 when HMRC had demanded the player contracts from them, the SFA do nothing about the issue until 2 weeks after Rangers enter Administration about the lack of lodged player contracts of the type that seem to be getting bandied around court rooms. On 2 March 2012, Hugh Adams a former Director from whom nothing had been heard since 2009 gives an interview in which he says the side contracts were not lodged with the SFA. "Really?", gasp the SFA, who two days later say they will investigate these shocking claims, "I blame the Scapegoats!".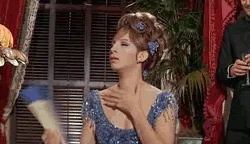 Two days later again, the SPL under direction of Neil Doncaster have lawyers Harper McLeod write to Duff and Phelps RFC Administrators requesting all documentation relating to all EBTs with side letters used by RFC since 1st July 1998 be disclosed to them. This included HMRC letters of 23 February and 20th May 2011 (the latter also not disclosed to the SFA in May 2011 as would be required by UEFA FFP Articles) which mention the De Boer side letter of August 2000, and describe the DOS scheme used in detail. The same one's later omitted from the scope of their own investigation. Conveniently the one's that admission of illegal avoidance of PAYE and NIC had already been admitted on and on which settlement had yet to be made. A 'misunderstanding' that these two were the same as those under appeal would provide a handy excuse that despite being in contravention of the law, any club could also have done these so, erm, no competitive advantage? This 'mistake' would be necessary for any later whitewash to work. Of course that would also need you to forget that Regan and the SFA were well aquainted with the Wee Tax Case liability, that Campbell Ogilvie (SFA President) who gave evidence in the later Enquiry had actually set them up. How forgetful of him.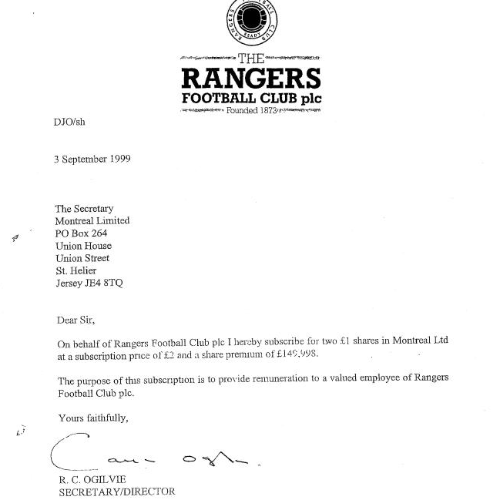 Despite the alleged breaches actually relating to SFA Rules on player registrations and those same players having participated in Cup ties not under the SPL's remit, the SFA then immediately drops their own investigation into the same issue and passes it to the SPL. This allows the SFA to act as the appeal body to the LNS production of "Desirable Outcomes" when the SFA eventually decide what those are. After all nobody wants UEFA or CAS involved as an appeal body. It also allows them to later give the very Expert testimony that ensures those outcomes are desirable based on their own interpretations of their Rules, something that would not have been possible if they had to be independent of such an Independent Enquiry. Of course it shouldn't allow that still because of course they are the Appelate Body, but it happens anyway.
Phase 3:
Another 3 days down the pike and the SFA declare that after an SFA inquiry that Craig Whyte should not have been ruled 'fit and proper' to buy Rangers. Stewart Regan will later explain how it wasn't really a test anyway (see here). I guess it shouldn't be a surprise that a test that allows people to say any old thing without challenge (as Regan will later explain) might prevent people who aren't fit and proper from passing it. Good job it came to light exactly when things started their delayed crash and not earlier though!
Phase 4:
A week later, the SFA issue Rangers with notices of complaint over alleged breaches of five disciplinary rules and Whyte over two alleged breaches in relation to LNS first piece of work for the SFA. The same day SPL Lawyers letter of this date begin the investigation of the EBT's used by Rangers. It will initially refer to all EBT's with side letters from 1998 though without explanation the final enquiry is restricted to exclude the DOS element. That 'mistake' needed a wee bit of deliberate intervention to happen.
Phase 5:
29 March 2012 the Principle hearing on Disciplinary Charges for Craig Whyte and Rangers is heard. On 23 April 2012 it will return that Rangers receive a 12-month embargo on signing players and owner Craig Whyte is banned for life. Gary Allan QC announces findings of a Disciplinary Tribunal into Rangers FC and Craig Whyte relating to failures to make certain disclosures and bringing the game into disrepute. Charges are upheld.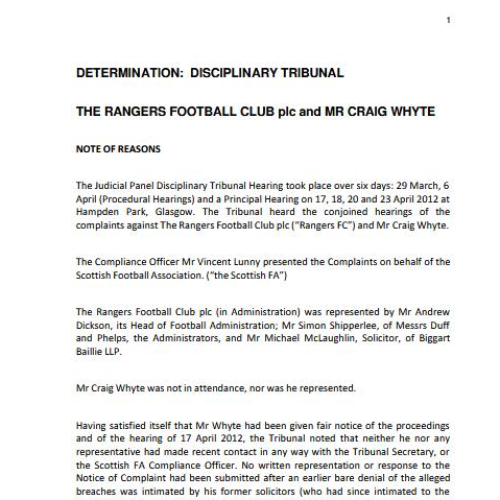 The outcome for Rangers will later be taken first to Appeal (where SFA reject it) and later to Court of Session where it transpires that the punishments meted out to Rangers were not in the SFA's powers to do and unlawful. Rangers presumably didn't appreciate that this was a whitewash and all they needed to do was be quiet.
By this point the groundwork is laid for the absolution of the SFA and the scapegoating of Craig Whyte and the old Board. Also for a controlled ending to any hang-over to the misdeeds of the past. LNS will later come to be involved with the SPL Independent Enquiry as well.
Negotiations begin both for Rangers and their future ownership and the SFA and leagues as to how they are going to be accomodated. A cash crisis is coming for the other clubs and most of them have only just become aware, the SFA having sat tight with their fingers crossed while the desperate bid to turn it all around happened.
The Green takeover, the "switcheroo" on Craig Whyte, the IPO, the regime of the Easedales and Mike Ashley would all lay ahead for Rangers – but are not relevant to this story of how a failure to handle systemic risk in a business model, good governance and thin levels of capitalisation within a micro-economy brought unprecedented levels of financial concern to the whole of Scottish football. They are the hangover Rangers would suffer though from crazy gambling in the final days faciliated by an SFA in search of a 'Get Out of Jail Free' card.
The top clubs and the SPL that represents them didn't get involved until the delayed crash happened. By then though it was a battle for survival and Neil Doncaster, under the instructions of those clubs, got to work salvaging the financial impact. The clubs were up to their armpits in the Five Way Agreement that would later seal the Return of the Rangers. Neil Doncaster is their man and takes no risks of his own accord. It was the SPL alongside the SFA that would set the terms of the LNS Enquiry that would ultimately allow no other conclusion to be reached and present no evidence for consideration on 'Sporting Advantage' for good measure.
Celtic, while knowing they were party to cleaning up the wreckage and pretending it had never happened, either saw leverage to be made by pressuring the SFA over their part in the 2011/12 UEFA gambit or pretended to give their support through subsequent ineffective correspondence that they were the champions of integrity to appease their fans. A correspondence relationship between Peter Lawwell and Stewart Regan would begin. It would go public later as this and the Resolution 12 action entered the public arena. Later the Resolution 12 guys would become a threat to the carefully arranged rescue operation rather than useful investigators and cut loose after seemingly irrefutable evidence emerged that tax payable existed at 31 March 2011 (not a  potential liability that was overdue because it had not been paid), had no written agreement with HMRC to postpone collection and was no longer under dispute. Eventually Lawwell would get Maxwell and Mulraney (his placemen) into key positions with his improved bartering position. Maxwell would later 'go native' though. What a cad!
"You have a board there with very capable people in Mike Mulraney, who represent the clubs, alongside Ian Maxwell. And you've got independent non-executives in Gary Hughes and Ana Stewart who are capable people.

"I think it's time for these guys to be given their head and maybe given a bit more authority to actually understand what is the purpose of the SFA in the modern game? And how does that relate to the SPFL and the clubs?

– Peter Lawwell, Celtic CEO [February 2018]
In retrospect a controlled insolvency that embraced fans trust ownership and stopped the later profiteering looks a much more desirable outcome. It may even have made HRMC more ameniable to a CVA had intention been shown to meet obligations, though it is far from certain.
Now that the stage was set for lack of recriminations on those who run the game though, who Rangers went to mattered to nobody but the Rangers fans. Attentions would turn now to the bargaining that would allow Rangers to come back and plug the financial hole.
The fourth part of this series is now available here.